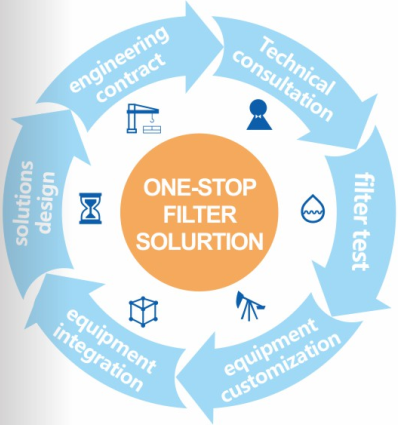 Technical consultation: Changjie provide customers technical consultation services and best filter solutions suitable for full life cycle, including consultation on project site layout, filter design and model selection, installation and adjusting and etc.
Filter test: Changjie help customers to choose the most cost-effective filter press by providing tests in the lab or at the site with necessary material supply.
Equipment customization: Based on the special technical requirements of user, Changjie manufacture customized, large-scale, automatic and efficient filter press, as well as customize spare parts for customers.
Equipment integration: According to different industrial attributes, processing scale and technical features, Changjie provide the general contractor or investing party the complete set of solutions of advanced and reliable filter system.
Solutions design: Changjie provide users comprehensive solutions for filter press upgrading, filtering of complex and difficult materials, general contracting of filtering and etc.
Project contracting: Changjie provide customers one-stop EPC services including engineering design, infrastructure construction, equipment manufacture, installation and adjusting, maintenance and etc.